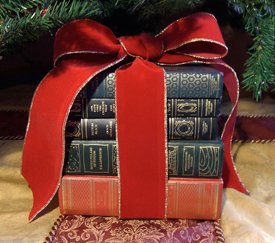 Free Shipping for Cyber Shoppers!
If you're here, it's because you're SMART - you're shopping online. We're rewarding your efforts by offering FREE SHIPPING on all orders of $20 or more shipped to US addresses.

Let Lake Country Books and More help you avoid the traffic, crowds, and lines of the malls and big-box retailers. Sit back and relax at your own computer, browse our wide selection, and find something for everyone on your gift list - even the most difficult-to-buy-for. Everything we have on our site, we have in stock. Simply place your order and we'll ship by the end of the next business day, and your postal carrier will bring your purchases to YOU! A far more relaxing approach to holiday shopping, to be sure.
We carry a wide variety of new and used books, CDs, and DVDs. If it's important your item is brand new, we state that on the individual listing so you know exactly what you're getting. Questions? We're just a phone call or e-mail away, and will be happy to help.

Let us help you take some of the stress out of the holidays, and
thank you
for stopping by!
Looking for something in particular? Search for specific items using the search bar on the left. You can search by title, author, publisher, ISBN (no dashes), UPC code, or any combination. Don't know the full title or author's name? Enter the words you do know, and we'll come up with the best matches we have. Click on a category/sub-category from the list on the list to browse everything we have by subject or genre.
Ready to checkout? Simply go to your shopping cart.