Books and Media to surprise and delight.

When you visit our cyber-aisles, you'll be amazed at what you find. We specialize in the unusual, out-of-print, niche interests, and obscure titles. You truly never know what you'll find from week to week, because we're always adding new titles. That's not to say that we don't have a healthy dose of popular subjects as well, but shopping here is a bit of a treasure hunt. We carry both new and used items, so you can find a bargain used title for yourself while getting a great gift for someone special - all in one stop.
Our latest additions are below, but click on the categories to the left to explore our extensive selection on many, many subjects.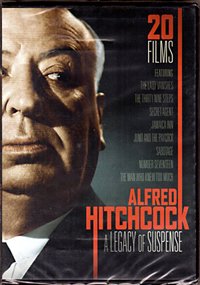 Currently we're offering a FREE Alfred Hitchcock DVD with any purchase of $15 or more. You'll enjoy a great collection of his early work, including some silent movies and a few of his TV shows. Just enter the word FREEDVD in the Promo Code box when you check out.
Note that we sell both new and used books, so see the condition notes for each listing to determine whether the particular item you're interested in is new or used.

Lake Country Books and More is an independent seller of used, new, out-of-print, and hard-to-find books, music and movies. Welcome to the Lake Country. Sit back, relax, and meander through our many listings. Thanks for stopping by!

Looking for something in particular? Search for specific items using the search bar on the left. You can search by title, author, publisher, ISBN (no dashes), UPC code, or any combination. Don't know the full title or author's name? Enter the words you do know, and we'll come up with the best matches we have. Click on a category/sub-category from the list on the list to browse everything we have by subject or genre.